With its latest iteration, the 2019 Toyota RAV4 in Bend, OR continues the sleek, sophisticated look of its predecessor. On the other hand, the 2019 Subaru Outback remains as the most reliable vehicle on its class. Here is an in-depth comparison of these two compact SUV icons when it comes to safety, passenger space, reliability, and engine performance.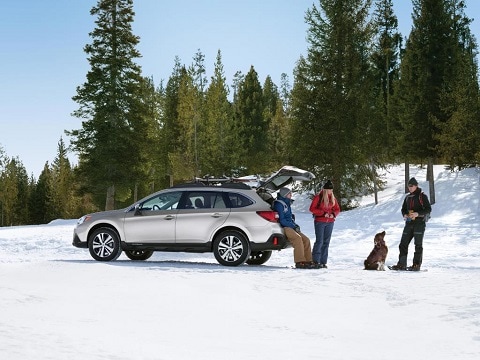 Safety Comparison
Whether on wild terrain or city roads, a compact crossover SUV has to be concerned with safety. This is what the Toyota RAV4 and Subaru Outback do best, having the best active safety systems in their class.
The Toyota Safety Sense is a remarkable suite for the Toyota RAV4, boasting of features like Pre-Collision System with Pedestrian Detection and Lane Departure Alert with Steering Assist, among others. Equally as good are Subaru's STARLINK Safety and EyeSight Technology, with features ranging from Adaptive Cruise Control to Lane Keeping Assist.
The safety systems helped both vehicles earn top ratings from the Insurance Institute for Highway Safety (IIHS). The Toyota RAV4 got a "Top Safety Pick" distinction in 2018, however, there were issues encountered. The passenger side small overlap front got a Poor rating for crashworthiness, and the headlights were mediocre at best. This wasn't the case with the Subaru Outback. Subaru's signature crossover received the Top Safety Pick+ rating and passed all IIHS criteria with flying colors.
Passenger Space Comparison
For out-of-town drives and endless traffic jams, cabin comfort is an important luxury. The 2019 Toyota RAV4's interiors measure up to comfort standards, having 98.9 cubic feet in passenger space. Its passengers can enjoy up to 37.5 inches of headroom, 41 inches of legroom, and 42.8 inches of shoulder room.
This all seems tiny though, compared to the 2019 Subaru Outback. With an outstanding 108.1 cubic feet in passenger space, you and your guests can have up to 40.8 inches of headroom, 42.9 inches of legroom, and 58.1 inches of shoulder room. When riding alone, you can fold the rear seats to store up to 73.3 cubic feet of cargo. This is overwhelmingly larger than the 69.8 cubic feet cargo space the Toyota RAV4 allows.
Also, as a driver, the Subaru Outback gives you more flexibility with a 10-way power adjustable seat. This is a feature the Toyota RAV4 can only dream of, having only an 8-way power-adjustable seat.
Reliability Comparison
An SUV's reliability goes hand-in-hand with its durability. Both the 2019 Subaru Outback and the 2019 Toyota RAV4 offer lucrative warranties for their vehicles. These warranties are identical in mileage - 36,000 miles for the limited basic option and 60,000 miles for limited powertrain coverage. However, they differ in time offered.
The Subaru Outback offers a three-year basic warranty and a five-year powertrain warranty, which are more extended periods than the Toyota RAV4's 36-month basic and 60-month powertrain options.
The National Highway Traffic Safety Administration (NHTSA) can also tell us a thing or two about each vehicle's reliability. The Toyota RAV4 has already had one recall and 32 complaints. While small, it pales in comparison to the Subaru Outback 0 recall, 0 complaint record. Thus, there is no question that the Subaru is the more reliable of the two.
Engine Comparison
Behind each great compact crossover SUV is a workhorse of an engine. The Toyota RAV4 has a 2.5-liter DOHC engine that can generate up to 203 horsepower and 184 lb-ft of torque. While suitable for both country and city driving, the Toyota RAV4 engine's real area to brag about is its 1,500-pount towing capacity. 
Can the 2019 Subaru Outback respond to the challenge? Yes, and in a big way. The 3.6R Limited trim boasts of a 3.6liter DOHC engine which can churn up to 256 horses and 247 lb-ft of torque. These specs, plus the Subaru Outback's towing capability of 2,700 lbs put it ahead in the compact SUV engine race.
Overall, there is no doubt which is the better compact crossover SUV. The 2019 Toyota RAV4 in Bend, OR is a stylish and sensational vehicle, however, the 2019 Subaru Outback is simply superior with better passenger space, more safety features, and is higher reliability rating. Click for more information on the 2019 Subaru Outback.