Date Posted: November 26, 2018
When looking for a good compact SUV this winter, the 2019 Honda CR-V in Bend, OR is a sensible choice. It has the performance and amenities necessary for the season, but if you want the best vehicle for performance, comfort, and reliability, the 2019 Subaru Outback should be your top choice.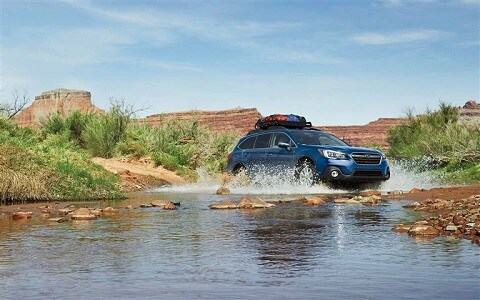 Safety Comparison
Honda and Subaru each have a great tradition of safety, and it is reflected in their respective vehicles. In fact, the 2019 Honda CR-V and 2019 Subaru Outback's previous models were both cited by the Insurance Institute for Highway Safety (IIHS) this year. As the current vehicle models are still being evaluated, the immediate previous iterations will be used for comparison.
The Honda CR-V was awarded the Top Safety Pick by the IIHS, excelling in both its crashworthiness and crash avoidance. It fell short when it came to its headlights and child seat latching, though, with  an "Acceptable" mark for both.
Meanwhile, the Subaru Outback got the Top Safety Pick+ rating, earning the highest marks in crashworthiness, crash avoidance, and child seat latching. In addition, the Outback's LED headlights garnered a "Good" rating, which is higher than that of the CR-V.  We all know, especially in winter, that safety should not be compromised. That being said, drivers are better off with the Outback's safety amenities.
Passenger Space Comparison
Passenger space is a vital consideration for winter; the less cramped the passengers, the more comfortable they are. The 2019 Honda CR-V has a passenger space of 105.9 cubic feet, giving each passenger up to 57.9 inches of shoulder room and 41.3 inches of legroom. The 2019 Subaru Outback does slightly better, giving 108.1 cubic feet of passenger space with up to 58.1 inches of shoulder room and 42.9 inches of legroom per passenger.
For long, cold journeys, the Honda CR-V offers heated front seats. This feature, however, is not available for rear passengers. As a result, second-row guests may feel chilly during ski resort trips. Meanwhile, the Subaru Outback has available heated front seats and rear seats, giving a more holistic feeling of warmth in the cabin. Thus, based on interior space and comfort, the Outback is the winner, hands down.
Reliability Comparison
Being two of the most durable SUVs, the 2019 Honda CR-V and 2019 Subaru Outback have competitive warranties. Both offer a limited warranty of 3 years/36,000 miles and a powertrain warranty of 5 years/60,000 miles. However, data from the National Highway Traffic Safety Administration (NHTSA) shows that the Subaru vehicle has a better reliability score. The Outback has received 0 recalls and 0 passenger complaints so far, while the 2018 CR-V has already had one recall and 210 complaints.
Also, a factor in a vehicle's reliability is its ability to move through the snow. A vehicle that has a higher ground clearance can help it navigate harsh terrain like snow, slush, dirt, and mud. Comparing the two SUVs, the CR-V has a ground clearance of 8.2 inches, while the Outback's is 8.7 inches. There's no question that when it comes to reliability, the Outback is the better deal.
Engine Comparison
Exterior features give the SUV its physical toughness, but its engine gives it its soul. The 2019 Honda CR-V and the 2019 Subaru Outback both have powertrains that can handle sub-zero temperatures.  The CR-V has a standard in-line 2.4L 4-cylinder engine, with an available turbocharger on higher trims. This is a powerful engine which could generate up to 190 horsepower, 179 lb-ft of torque and 33 miles per gallon on an all-wheel-drive platform.
On the other hand, the Outback possesses Subaru's widely-acclaimed Boxer engine. Having a standard build of 2.5 L with 4-cylinders, the engine can generate up to 256 horsepower, 270 lb-ft of torque and 32 miles per gallon on an all-wheel-drive setup. Furthermore, the Boxer's special structure - a horizontal orientation and low center of gravity - contributes to its superior performance. This is why, for both engine and engine performance, the Outback prevails yet again.
Without a doubt, the 2019 Honda CR-V in Bend, OR is a compact SUV that can take on harsh winter conditions, but the 2019 Subaru Outback is a more complete vehicle, offering better engine performance, safety, and interiors. Click to contact us and learn more about the 2019 Subaru Outback.
Hours
Monday

8:30AM - 7:00PM

Tuesday

8:30AM - 7:00PM

Wednesday

8:30AM - 7:00PM

Thursday

8:30AM - 7:00PM

Friday

8:30AM - 7:00PM

Saturday

9:00AM - 6:00PM

Sunday

11:00AM - 5:00PM