The 2019 Kia Sorento in Bend, OR is one of the fastest growing sports utility vehicles today. This beast is set to make its mark in the SUV arena in its third generation. Competing against the Kia Sorento is the 2019 Subaru Forester, the latest in a long line of SUVs and the perennial favorite. Both vehicles have various trims with key specialties, and they perform well in many areas. But which midsize SUV proves superior across all trims?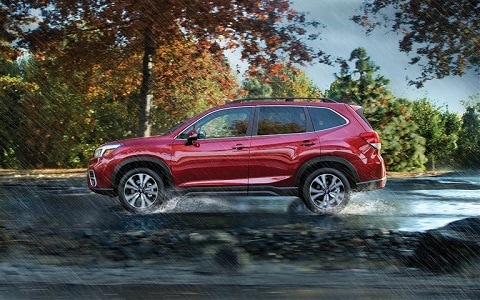 Safety Comparison
The 2019 Kia Sorento boasts of a comprehensive passive safety system, with a state-of-the-art airbag and seatbelt system. It almost does not differ from its 2018 version, which earned a Top Safety Pick from the IIHS. The Sorento also comes with advanced safety features including Advanced Smart Cruise Control (ASCC), Forward Collision Warning System (FCWS), and Lane Departure Warning System (LDWS). However, these features do not come standard with the basic version of the Sorento, and may only be added as an option for higher trim.
The 2019 Subaru Forester, on the other hand, also boasts the same airbag and seatbelt system of its previous version (2018) which gained a Top Safety Pick from the IIHS. Subaru also has its own active safety system, the EyeSight Driver Assist Technology, which includes Adaptive Cruise Control, Pre-collision Braking System and Lane Keep Assist.  The great thing is that EyeSight is a standard feature for all Forester trims. With better coverage of safety and security across all trims, the Forester definitely takes this round.
Passenger Space Comparison
The 2019 Kia Sorento has a large cabin that seats up to 7 people for up to 3 rows. It has a total 145.4 cubic feet of passenger volume. If you're going for a long drive, the Sorento also comes with a built-in panoramic sunroof. Inside, passengers can expect a comfy layout, with seat legroom of up to 44 inches and headroom of up to 39.5 inches.
Not to be outdone, the 2019 Subaru Forester is a 5-seater beast, which has 111.9 cubic feet of passenger volume. It also has its panoramic skyroof, which is referred to as a moonroof. Finally, passengers can expect legroom of up to 44 inches, and headroom of up to 41.2 inches.
While the Sorento has bigger overall space, the Forester has a better proportional distribution of the space. This gives the Forester the advantage in this category.
Reliability Comparison
Since its introduction 16 years ago, the Kia Sorento has made strides in technological advancements.  Now in its third generation, it has become a highly economical alternative to other SUVs in its class. The Sorento holds its own when it comes to durability and reliability with its steel unibody and iso-safety structure.  The Subaru Forester, however, has been around longer, having been first produced in 1997. It is now in its fifth generation and has made a name for itself in the SUV segment. Its high-strength steel body structure gives it an unmatchable driving feel and durability for years to come.
The Subaru Forester's longevity is well-documented. London-based information provider IHS Markit Ltd. has stated that 97% of Forester models sold in the last decade are still being used. This makes the Forester the vehicle in its class with the highest retained value.
Engine Comparison
For most of its trims, the Kia Sorento has a 2.4 L direct injection engine, powered by dual continuously Variable Valve Timing (CVVT). The engine is capable of producing 185 hp, 178 lb. ft. of torque, and an MPG of 22/29 for city and highway driving. Sorento also offers an all-wheel-drive function but only at higher trims.
Meanwhile, the Subaru Forester has its trademark Boxer engine, which is a 2.5 L direct injection engine and has Dual Active Valve Control System.  The engine can run up to 182 hp, 176 lb. ft. of torque and an MPG of up to 26/33 for city and highway driving. The Forester also has symmetrical all-wheel drive function, which is a standard for all trims of the vehicle.
With the Boxer being a more established engine, and performing at a slightly higher level than its Kia counterpart-plus the all-wheel-drive option being available at every trim, the Forester definitely wins the battle of the engines.
All in all, the 2019 Kia Sorento in Bend, OR is a promising SUV, with notable improvements in modifications and amenities from the last version. But the 2019 Subaru Forester beats it with the best in class performance and overall reliability.