The Honda CR-V has undoubtedly achieved and currently holds an enviable reputation in this vehicle class and while the 2019 Honda CR-V in Central Oregon has no significant improvements over the prior model year, perhaps signifying a certain level of complacency, that, at least for the 2019 model, is expected to continue to nurture this position.
With the introduction of the 2019 Subaru Forester, however, we believe Honda will have met a serious competitive match. In fact, we are certain the 2019 Subaru Forester will meet and exceed all expectations, clearly placing it in a position to challenge Honda's leadership position as well as other vehicles in this category.
Until such time as you do indeed drive the 2019 Subaru Forester (we invite you to do so, at the end of this article), we share, for your convenience, the contrasts and similarities in areas of clear importance to all drivers.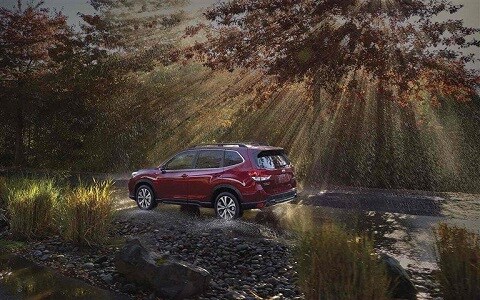 SAFETY AND SECURITY
Safety is always a compelling issue to consider in the purchase of an automobile. Both the 2019 Subaru Forester and the 2019 Honda CR-V meet these requirements with features that highlight both, safety and security. Each vehicle comes equipped with built-in traction control, airbags, brake assist, and stability control. These features make every drive as safe as possible for you and your family.
On the Security aspect, both vehicles incorporate auto-delay headlights, tire pressure monitors, blind-spot warning systems, and post-collision safety systems. Finally, both include an anti-theft system to protect your investment.
The 2019 Subaru Forester, however, includes additional important safety features not available in the Honda at all, or as an option; a built-in panic alarm, ignition disable system, and a discerning airbag system (airbags that detect the number of passengers in the vehicle), self-leveling headlights, lane departure warning and lane keeping assist.
INTERNAL DIMENSIONS AND OTHER COMFORT FEATURES.
Both vehicles seat 5 passengers, but the 2019 Subaru Forester bests the 2019 Honda CR-V in the following internal, comfort sensitive, dimensios:
Front Legroom 43.3 in vs. 41.3 in
Front Headroom 40.2 in vs. 37.9 in
Front Shoulder Room 58.2 in vs. 57.9 in
Rear Shoulder Room 57.2 in vs. 55.2 in
The 2019 Honda CR-V tops the 2019 Subaru Forester in only one category:
Rear Legroom 40.1 in. vs 39.4 in
Additional internal comfort features on both vehicles include the following delightful features:cruise control, power windows, keyless ignition, temperature control, and speed control. These alone make your daily drive, short or long drive, a relaxed experience.
The 2019 Subaru Forester comes with front and rear tires measuring up to 17 inches, while the tires of the 2019 Honda CR-V measure 18 inches. Both offer four-wheel independent suspension. The Subaru Forester, however, comes on top, as it includes all-wheel-drive to front-wheel-drive on the Honda as well as front and rear anti-roll bars absent on the Honda. These comfort and safety features will decidedly assist you in staying the intended course.
ENGINE AND OPERATING DIFFERENCES
Both the 2019 Honda CR-V and the 2019 Subaru Forester are equipped with outstanding engines mated to a continuous variable transmission with overdrive (CVT w/OD). Each engine has minor differences. The Honda CR-V providing 26 City and 32 Hwy. MPG vs the Subaru Forester's 26 City and 33 Hwy. The Subaru Forester will take you farther with a 16.6gal fuel tank to 14gal tank on the Honda CR-V. Finally, the 2019 Subaru Forester has an impressive 35.4 turning diameter to Honda's 37.4. Should you have to turn around on a tight spot, you will find this Forester advantage to be a greatly appreciated feature.
The 2019 Honda CR-V comes equipped with a 184bhp@6400 RPM base 1.5L engine with 4-cylinders, 16-valve, DOHC engine generating 180 lb-ft @ 3900 rpm.
The 2019 Subaru Forester is equipped with  182 bhp@5800 rpm base 2.5L engine with 4-cylinders, DOHC engine generating 176lb-ft @4400 rpm.
THE 2019 SUBARU FORESTER TAKES THE LEAD!
While the battle between the 2019 Subaru Forester and the 2019 Honda C-RV in Central Oregon has been heated, ultimately the 2019 Subaru Forester comes on top! With powerful engine performance, a comfortable ride, and reliable performance on the road. The Subaru Forester is the Compact SUV to choose.
The next step is to experience it in person. Click here for more information on owning the new 2019 Subaru Forester.