It's leggy, lovely and for erstwhile fans of its low-slung stablemate, the Impreza, the 2016 Subaru Crosstrek near Salem, OR might be just the way to graduate from a sedan to an SUV. Lest anyone should misunderstand though; this unpretentious crossover hatchback is more than just an Impreza with a view.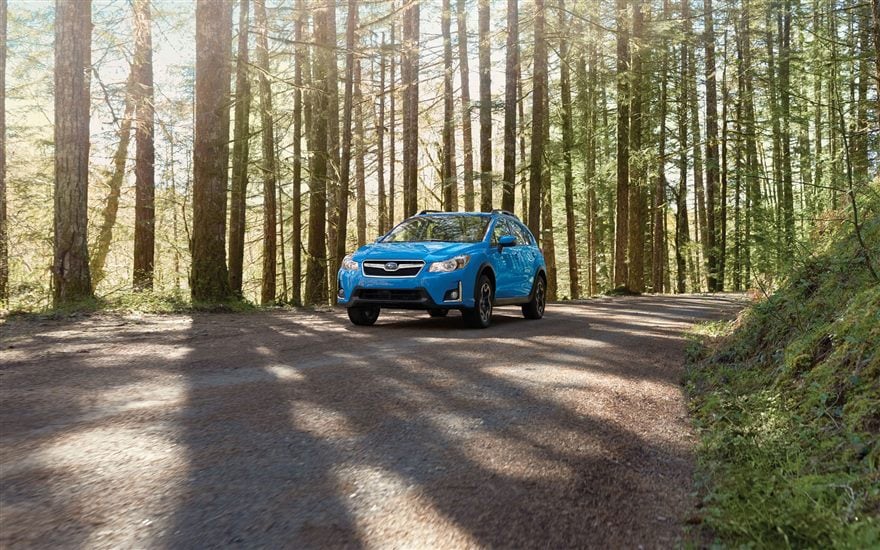 A Crossover SUV and Then Some
While the 2016 Crosstrek offers nothing to try and hide its close relationship to the Impreza, it meets the very different requirements of the SUV owner in admirable fashion. In fact, as Bengt Halvorson, (a writer for The Car Connection) stresses in his 2016 Subaru XV Crosstrek review, some of its direct competitors, despite claims of superiority in rugged utility, don't manage to match the Crosstrek in overall off-road ability.
The Crosstrek's ground clearance for example, is a generous 8.7 inches, making for serious off-road capability, even over terrain with loose rocks or deep snow cover. Of course Subaru's standard, always-on, all-wheel-drive, supplying power constantly to the wheels with most traction, helps enormously in the rough, where many other crossovers show their suitability as occasional, rather than regular visitors to the trail-less-traveled.
Rugged plastic cladding protects the 2016 Subaru Crosstrek from lower-body-panel damage, adding further to the vehicle's off-road credibility and serving as more than a cosmetic adornment. Even owners who rarely leave the tarmac will find the cladding beneficial in reducing unsightly stone-chip damage all too commonly seen on less well-protected cars.
Drive it, Park it, and Love it
If the measure of an SUV crossover is its ability to perform multiple roles at least adequately, the 2016 Crosstrek approaches the top of the scale. Maneuverability and ease-of parking contradict any impression given by the Crosstrek's tall, brawny appearance. In fact all that ground clearance, if anything, makes this Subaru easier to maneuver than many standard hatchbacks, thanks to enhanced all-round visibility from the elevated driver's position.
While on the subject of visibility, Joe Tralongo, a contributing editor at Kelley Blue Book, lists Subaru's "Eyesight" driver assistance technology as a favorite Crosstrek feature in his KBB 2016 Subaru XV Crosstrek Expert Review. True to the manufacturer's reputation for building safety into all its models, Eyesight is an intelligent suite of automated, safety-enhancing functions, each of which receives and responds to visual data captured by a pair of onboard cameras.
Subaru Dealership Serving Salem, OR
If you're on the lookout for a crossover SUV that blends true on-road drivability with the muscle to make it on or even off the trail, why not Subaru of Bend, near Salem, and take a look at the new 2016 Subaru XV Crosstrek?