The 2021 Subaru Love Promise Community Commitment Award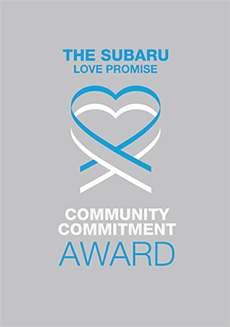 We've been nationally recognized for our dedication to our community and the Subaru Love Promise.
We're honored to receive the 2021 Subaru Love Promise Community Commitment Award. This award nationally recognizes Subaru retailers who are making the world a better place while demonstrating an outstanding commitment to supporting passions and causes in local communities. These efforts are focused in important areas such as the environment, community, health, education, and pets.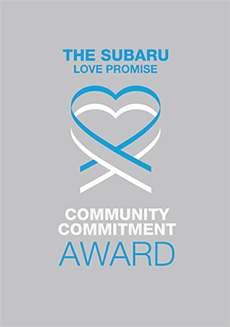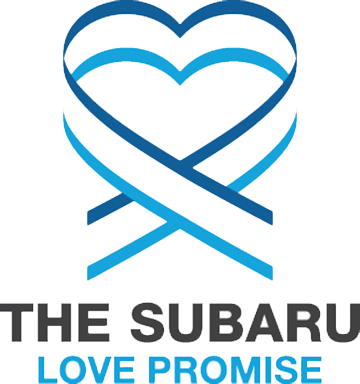 What is the Subaru Love Promise?
Subaru and our retailers believe in making the world a better place and the Subaru Love Promise is our vision of respecting all people. This is our commitment to show love and respect to our customers and to work to make a positive impact in the world.
How is Subaru Of Bend dedicated locally to the Love Promise?
Subaru of Bend has operated in the Central Oregon community for 5 generations. The dealership and the Thomas family strongly believe in giving back to the community and local organizations in the area that are committed to supporting those that can not always help themselves, those that have chosen to stand up for a cause, and those that work every day to make Central Oregon a better place to live.
Chimps Inc., Spay and Neuter Project, Brightside Animal Center
Paddle Trail Alliance, Central Oregon trail Alliance
Special Olympics, Cascade Academy
Central Oregon Pride, 4-H, Deschutes Children's Foundation, In Our Backyard, Bethlehem Inn
Love Promise Stories from Subaru Of Bend
Subaru and Subaru Of Bend believe in making a positive impact on the communities in which we live and work. We uphold that belief through our Love Promise Community Commitment. Every month, we select inspiring stories from customers and partners from around our area who strive to support our collective commitment and feature them here
Subie, The Underdog Wonderdog - Carol S
Labor day was less than a week away in Central Oregon. Folks in the dog-friendly town of Redmond were packing up their travel gear and fluffy-nugget companions for an extended weekend of fun and adventure. Downtown the streets were busy with SUV's, Crossovers, 4-Wheelers and RVers. Grocery stores and mini-marts filled with outdoor enthusiasts loading up on road snacks, camp food and Smores. Summer memories were going to be made one last time before fall and winter started to freeze. A girl named Subie was wandering downtown amongst the excitement, noise and traffic. With little to no hearing and an age of 91 - in people years - she must have wondered how she ended up in such a predicament, and how her paws might navigate her wagging tail to safety. Riding in a cop car usually lacks a tail wag from any species. Underdogs like Subie though, have a different plan. Strutting her wiggle-tail and Subie-smile from the end of an officer's leash, Subie shined when we met her at Brightside. She wore a pink metal heart on her collar that said "SUBIE" with a local phone number inscribed. Calls from the officer and from Brightside reached dead ends. Vet exams and observation showed additional signs of senior age, physical abnormalities and previous motherhood. Imagine the headline: "91 year old deaf mother wandering the streets of downtown Redmond - picked up by the police - walks into a shelter with a smile on her face because where she came from was worse." After an extra two days on stray-hold for Subie's family to find her, Brightside staff deemed her fully adoptable. She had a photoshoot and "resume" created for her new online profile. Her underdog determination was now thriving and Subie's eyes told Brightside staff she was smiling every day. Brightside continued to learn about Subie and her non-hearing capabilities. They incorporated her into play groups and volunteer walks around the shelter while her smile grew daily. Exactly one month after Subie the Underdog shined a light on Brightside, a new family decided to shine light on Subie. Subie was adopted on the first day of Brightside's partnership with Subaru of America and Subaru of Bend for their Subaru Love's Pet's Month. Subaru donated $100 for Subie's adoption and will continue to donate $100 for every pet (dogs and cats) adopted nationwide during October.
---
Customer didn't have a ride. We went to them. - Ryan B
Ryan B. is a Firefighter in Salem OR in the need of a new car for his wife. Ryan works long hours, and his wife didn't have a ride to Bend OR to pick up her Crosstrek when it arrived. Chris Mangan went above and beyond to help them out. Chris trailered their new 2021 Subaru Crosstrek 130 miles to them. He helped them completed the paperwork and did the delivery in their driveway.
---
Fireworks from the "Subaroof" - Sarah L
Subaru of Bend has been the main sponsor for the City of Bend's fireworks display for the past 3 years. This year Subaru of Bend partnered with Bend Radio Group to give listeners a chance to nominate a deserving local military family to have a chance to be a part of dinner and fireworks viewing on the "Subaroof" on the 4th of July. Each year the fireworks are set off on the top of Piolet Butte located in the center of town. With Subaru of Bend being located at the foot of Piolet Butte it gave local military families the best view in town as a thank you for their service. This year the fireworks could be steamed through the Back Yard Bend app that is powered by Bend Radio Group.
---
"Dog-A-Day" at Subaru of Bend - Carol S
BrightSide Animal Center, a high save shelter in Redmond, Oregon wants to shout out a grand THANK YOU to Subaru of Bend for partnering with us for National Subaru's "Dog-A-Day" adoption event in October of 2020. It is as the African Proverb says, "It takes a village to raise a child," though in this case it was a dog. We gratefully count Bend Subaru as being part of BrightSide's "village." Special thanks to Matt Thomas, owner of Subaru of Bend for extending such a generous invitation. Also, special thanks to Rob Landis, Event Coordinator at Subaru of Bend for his enthusiasm, cooperative spirit and genuine interest in providing a welcoming venue for the dog handlers and their adoptable dogs. Great people, great animals, great coffee and great cookies. What a great day!
---
Subaru of Bend Shares the Love with OAS-Colleen D - Colleen D
On behalf of myself and the entire Oregon Adaptive Sports family, we'd like to send out a huge thank you to the entire team at Subaru of Bend for selecting OAS as one of the two local charities for this year's 2019 Share the Love Program. We have so much gratitude for the entire team at Subaru, including Matt Thomas, Andrea Levesque and Cheryl Doyal, and the incredible management and sales staff and also to all the loyal and valued customers who purchased a new Subaru during the Annual Share the Love Program. Together they raised $22,200 in support of our mission of providing life-changing outdoor recreation experiences to individuals with disabilities where participants gain confidence, build self-esteem and strive for independence leading to an enhanced quality of life. This amazing gift could not have come at a better time, when many non-profits are struggling during the COVID-19 pandemic. As a founder and 20 year board member, as well as a participant of our programs, I can attest to the real, life-changing benefits our programs provide for individuals and families who desperately need to connect with our community, feel valued, whole and independent, and be able to experience the amazing Central Oregon outdoors while benefiting from the many positive effects of physical activity and recreation. Oregon Adaptive Sports envisions a day when everyone has the opportunity to experience the benefits of outdoor recreation, regardless of ability or cost. We are so grateful to Subaru and its wonderful customers for "Sharing the Love" with us this year and all they do for the entire Central Oregon community.
---
Foster Community Receives Subaru Love - Melissa W
From the generous support of owners, management, service and sales teams, and loyal customers, Subaru of Bend raised $37,000 in support of Every Child Central Oregon. Last year, about 494 kids in Central Oregon experienced at least one night in foster care; currently, we have approximately 273 youth experiencing foster care in the tri-county area. Every Child Central Oregon believes in a hopeful future for children and families by helping connect individuals, businesses, families, and faith communities to meet the acute needs of youth experiencing foster care and foster families. We relentlessly fight for children in crisis and commit to finding safe, nurturing foster families where they can flourish during their time in care. Every Child believes in providing radical hospitality, and in doing so we are able to create, and nurture, momentum that incites recovery and resiliency in the communities we serve. When we provide just one tangible need for a youth in care it not only affects that child, but also provides encouragement to their foster family; reminding them of the support they can find in their community. When Subaru stepped forward and said "Yes!" to partnering with Every Child, they provided not just the monetary support it takes to purchase needed items. More importantly, they wrapped their arms around the foster community of Central Oregon and helped spread the message that they are important, they are seen, and we believe they have a bright future ahead of them! We are humbled by the support and give a big "THANK YOU!" to Subaru of Bend!
---
Subaru of Bend Shares the Love with Habitat - Robin C
With the support of the owners, management, sales, service and loyal customers, Subaru of Bend raised $37,334 to support Bend Area Habitat for Humanity. Bend Habitat is celebrating 30 years of service to the Bend community through affordable homeownership for families and individuals needing an opportunity for a hand up not a hand out. Affordable housing is a huge need in Central Oregon for people making 40%-80% of the area median income. These are folks working at the local hospitals, school districts, restaurants, grocery stores, breweries, car dealerships, hair and nail salons and more. These are folks who we couldn't do without in our every day lives. They should get to continue to live, work and play here like so many of us do. With the support of our local community and businesses like Subaru of Bend and Subaru of America, we can transform lives at a very tangible level for generations to come. This transformation translates to a healthier, stronger and more vibrant community. We all benefit when housing is not a dire need and people can make it to work every day, are stable, healthier and more productive for their employers. Because of the success of our ReStore, a home improvement resale center, 100% of every dollar donated builds homes for families in need of stability, self-reliance and transformation. With this donation and the support of the local community, we will double the numbers of families served this year with housing! We are on track to serve 20 families! This milestone would not be possible without Subaru of Bend & Subaru of America. Thank you for partnering and rocking our world! Join us some time with a hard hat and a hammer!
---
Subaru of Bend is giving back to our Community - Dan M
Huge thanks to Subaru of Bend for partnering with Pine Mountain Sports as the title sponsor of our annual Powderhound Preview & Fundraiser. This locally produced winter film festival raises money for Central Oregon Trail Alliance, Deschutes County Search & Rescue, and the Pine Mountain Sports Community Ambassador Program (which has supported non-profits including CASA of Central Oregon, Volunteers in Medicine, and Family Access Network). We're proud to work alongside the wonderful staff at Subaru of Bend who supports these, and many other Central Oregon non-profits that are making Bend a better place. Dan McGarigle Pine Mountain Sports
---
Subaru Shared the Love with Rescue Dogs! - Megan G
Herd U Needed a Home (HUNAH) Rescue specializes in rescuing herding breed dogs who are at risk of suffering or euthanasia in overcrowded shelters and finds them loving, activity appropriate homes. Subaru of Bend partnered with HUNAH to host an adoption event in November to celebrate their commitment to pets in Central Oregon. Everyone had a blast with the Subaru team and all of the people who came to meet the dogs. Two puppies even found their forever homes through this event! We can't thank Cheryl and the Subaru of Bend team enough for their support of our rescue!
---
Subaru of Bend Shared the Love with Moms & Babies - Woody M
With the support of ownership, management, sales staff and loyal customers, Subaru of Bend raised $41,986.62 to support Grandma's House of Central Oregon, a homeless and transitional shelter for pregnant or parenting young mothers and their little ones. Not only was this incredible donation made possible by this amazing team, our moms and babies also received many beautiful baby items during the campaign with the showroom baby cradle; this wonderful team also shared Christmas gifts making our moms and babies feel so special. Their gift of time, talent and support means the world to the girls and little ones and helps the life-skills, support and services our moms need to have healthy, happy babies & positive, full and productive lives a reality. You are a part of Grandma's House heart forever! We will never forget your hard work, generosity and beautiful spirits - we will treasure our friendship always!!! For all of you, the teapot is always on! With our deepest love and gratitude! The young mothers, babies, staff and all of us at Grandma's House
---