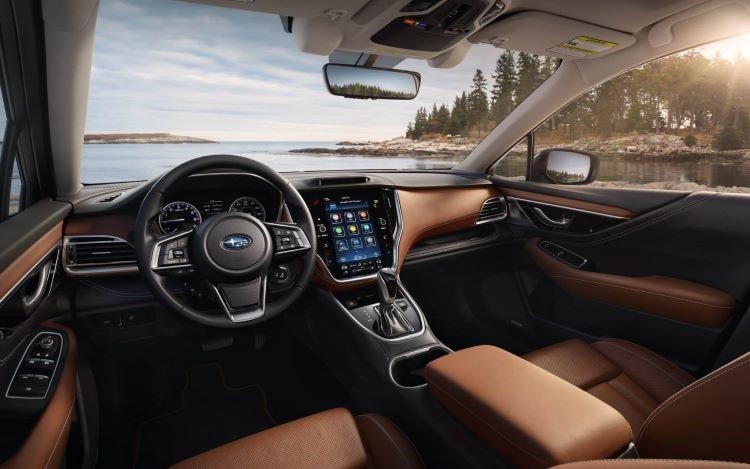 Subaru vs Audi and BMW in Bend OR: Can Subaru Beat its Luxury Competitors?
When comparing
Subaru vs Audi and BMW in Bend OR
, which luxury brand would you choose? All three are well known brands and each excels at producing vehicles with dependable engines and beautiful interiors as well as desirable features. For many years there has been major competition among several of these auto manufacturers. Let's see what they have to offer! This comparison will also provide a guide packed with knowledge to narrow down what vehicle will fit your evolving lifestyle.
Subaru
Subaru is in its own class of luxury. All Subaru vehicles come standard with Symmetrical All-Wheel drive. All-season tires are standard in every Subaru vehicle. You will have the luxury of 8.7-inches of ground clearance in any Subaru vehicle that fits your lifestyle. Drivers will also have the option of a 2.4-liter turbocharged Subaru Boxer engine. The cargo volume is 32.5 cubic feet, providing passengers with ample space to sit comfortably. Subaru drivers will also notice the recommended fuel requirement is unleaded gasoline (87 octane). Once you have filled up your tank you can expect to get 26/33 MPG*. When it comes to technology, Subaru goes beyond the expectations of consumers to stay true to their ongoing commitment to protecting those you love. They provide STARLINK Multimedia, Safety, and Security, EyeSight Driver Assist (which helps achieve 85% less rear-end crashes with injury), DriverFocus, Bluetooth, Navigation, and more.
Audi
Audi offers optional all-wheel drive with a 2.0-liter turbocharged engine. Audi vehicles have up to 8.2-inches of ground clearance, meaning the center of gravity is much higher than in the Subaru. They are known to have high service and repair costs as well. The average cargo volume of the Audi crossovers is 25.1 cubic feet, providing passengers with limited seating space and a less-than-pleasant ride. Audi drivers will notice an additional expense when going to the pump as well. The recommended fuel is premium gasoline (91-94 octane). After filling the tank, Audi crossover owners will get an estimated 22/27 MPG, falling short of the Subaru. Technology options include Audi pre sense basic, pre sense city, side assist, rear cross traffic assist, vehicle exit warning, and park steering assist.
BMW X5
BMW offers xDrive, which is an all-wheel drive system. However, it is not standard in all vehicles like the Subaru Symmetrical AWD is. Drivers also have the option of a 2.0-liter turbo engine. BMW offers an 8-inch ground clearance and a center of balance that makes sharp turns more difficult. Cargo volume in the BMW crossovers is about 28.7 cubic feet, providing sufficient seating space for passengers. When visiting the pump, BMW recommends premium fuel (91-94 octane), so filling up the tank costs far more than filling up a Subaru. Drivers will get an estimated 23/30 MPG. Let's talk technology! BMW offers a variety of optional features such as EfficientDynamics (energy management) and Engine Technology.
When thinking of luxury vehicles like Subaru vs Audi and BMW in Bend OR you expect them to meet the needs of your evolving lifestyle. Luxury doesn't necessarily have to mean more expensive – it means having all that you want and expect. We expect better quality and the most sophisticated safety technology without having to pay more. Buyers will notice that BMW vehicles start at $41,950 and Audi vehicles start at $42,950 while Subaru's starting price is $26,645. What defines luxury in a vehicle mean for you and your family? If luxury is an elegant, sleek exterior design, stylish, comfortable, spacious interior, and superior safety features, then luxury is a Subaru! After comparing Subaru vs Audi and BMW in Bend OR, buyers will notice that luxury is truly a Subaru! Buyers will get a low-cost, high-quality vehicle by a manufacturer that is committed to safety for you and your loved ones. To experience the difference contact Subaru of Bend and schedule your test drive.
*EPA fuel economy estimates. Actual mileage will vary with driving conditions and your vehicle's condition.