Add the Central OR Off-Road Package for Your Next Adventure
Subaru of Bend's
central OR off-road package
is a custom add-on package worth considering. If your desire is a Subaru that is unique to your adventures, we recommend placing a custom-built order with our product specialists. They will guide you through designing your new Subaru down to the smallest detail. Still debating? Allow our product specialists to show you several models of pre-built off-roading vehicles; they are sure to indulge your off-roading quests.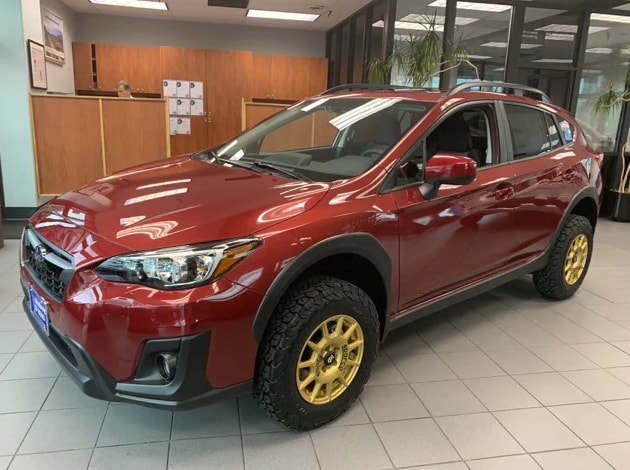 Customize your new Subaru with resourceful options for off-roading. Drivers will benefit from Subaru's factory-approved 1½ -inch lift-kit for additional ground clearance to the already impressive 8.7 inches. Subaru of Bend offers BF Goodrich all-terrain tires to ensure improved stability when your journeys take you off-road. Customers can also choose Thule cargo baskets for additional convenient storage. Contact our product specialists for all the details of our central OR off-road package, to place and order, or to view pre-built models from our extensive inventory.
Whether you are taking your Subaru skiing, hiking, boating, fishing, camping, or on off-road driving trails, our central OR off-road package is equipped for your most adventurous endeavors. At Subaru of Bend, we will help you preview pre-built off-road models or customize your own off-roading vehicle. We offer SUVs, sedans, and hatchbacks for you to consider.
Order you new Subaru with our off-road package or choose from our various other lifestyle accessories to customize your Subaru to meet your needs. For storage and transporting outdoor supplies choose which cross bar set and hardware kit will work best for your lifestyle. Customers also have the opportunity to add fork mount bike carriers, front wheel holders, a bike carrier hitch, lift kit for ski carrier, paddle board carrier, various roof cargo baskets, and portable step for easy access to roof storage.
Subaru of Bend is prepared to custom order your new off-road package, so search our inventory to find your match or add the off-road accessories to your current Subaru. When you pre-order your customized Subaru you will be getting all the safety features and off-roading features that are important to you. Compared to adding these features down the road, this process will be smoother, take less time and be less costly if features and accessories are added during a new Subaru purchase.
Subaru of Bend understands safety remains a priority, even during off-road fun. There are several safety features available to choose from on select trim packages. Eyesight involves four parts that work together to warn you of a potential accident. Pre-collision braking prevents you from hitting the vehicle in front of you; pre-collision throttle prevents you from accidentally accelerating into an object in front of you; adaptive cruise control maintains a set distance by adjusting the speed as needed; and lane departure and sway warning with lane keep assist monitors the position of your Subaru and alerts you if you drift into another lane.
Subaru of Bend boast of an inventory of high-performance vehicles. Drivers will notice the stability that the boxer engine provides, and the smooth and comfortable ride gained due to the Lineartronic Continuously Variable Transmission (CVT). Customers will obtain the luxury of a stylish vehicle, sophisticated safety features, and advanced technology, combined with the versatility of a commuter and off-roading vehicle.