For buyers looking for a reliable and sporty compact car that won't break the bank, the 2019 Honda Civic in Bend ORhas long been a popular choice. But is it the best choice for drivers in Bend, Oregon? With so much beauty to explore and diverse climates to encounter within just a short drive, you'll benefit from standard all-wheel drive. You'll be better protected from road hazards with superior driver assist features. You'll get more value for your money with standard smartphone connectivity. That's why Bend area drivers will go farther in the 2019 Subaru Impreza in Bend OR.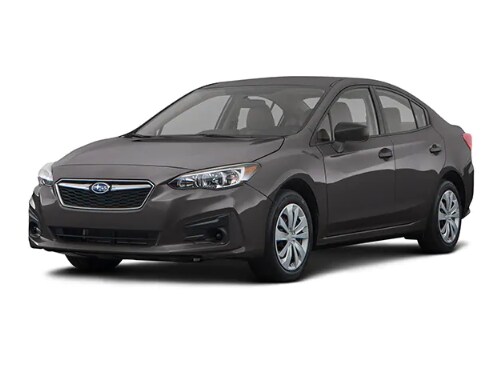 The
2019 Subaru Impreza
costs nearly $1,000 less and comes with the improved handling performance of Symmetrical All-Wheel Drive and so much more. We've compared these two cars head-to-head, so you can get a good idea of the amazing value you only get from a new Subaru.
Interior Size and Features
Despite being smaller overall than the compact Honda Civic, the Subaru Impreza gives you more room inside! Compared to the 2019 Honda Civic in Bend OR, which provides just 97.6 cubic feet of passenger volume, the 2019 Subaru Impreza gives you an impressive 99.8 cubic feet. That means more room for your passengers to stretch out and enjoy the ride.
Technology
When it comes to the entry-level models, the 2019 Subaru Impreza has more standard equipment, too. Even the base Impreza comes standard with touchscreen infotainment and smartphone connectivity through Apple CarPlay™ and Android™ Auto. On the 2019 Honda Civic LX, you find a static infotainment display and no Apple CarPlay™ or Android™ Auto.
All-Weather All-Wheel Drive Performance
You simply can't get the added grip, traction and handling response of all-wheel drive on the 2019 Honda Civic. It's only available with front-wheel drive. On the other hand, the 2019 Subaru Impreza comes standard with Symmetrical All-Wheel Drive. That'll help you hug the corners on dry pavement, plus it gives you added confidence and ability in inclement weather. When the roads get wet, the 2019 Subaru Impreza offers a better driving experience than any front-wheel drive rival!
Want even more handling prowess? The 2019 Subaru Impreza Sport trim level also gets active torque vectoring, which will gently engage the front, inside brake automatically when cornering to help keep you on your desired line. You won't find any 2019 Honda Civic with AWD.
Safety Features
All-wheel drive enhances your safety in the Subaru Impreza, but that's not all! It's also got some unique safety equipment you can't get from the 2019 Honda Civic in Bend OR.
On the exterior, only the 2019 Subaru Impreza is available with steering-adaptive headlights and fog lights. As you turn the wheel, these advanced headlights will pivot to illuminate the winding road ahead. You can't get that feature from any Honda Civic. And for those trips to colder climes, only the 2019 Subaru Impreza offers a built-in windshield wiper de-icer.
Inside, you'll find that only the 2019 Subaru Impreza is equipped with a driver's knee airbag. In certain severe collisions, the driver can be forced under the steering column, sustaining injury. The driver's knee airbag helps keep drivers situated safely in their seats for maximum protection, even during a major crash, so this doesn't happen.
Driver Assistance Features
Both these cars are available with a suite of advanced driver assistance features that can help you avoid an accident. When properly equipped, both the Honda Civic and Subaru Impreza (thanks to Subaru EyeSight®) feature pre-collision automatic braking, lane keeping assist and automatic cruise control. But the 2019 Subaru Impreza doesn't stop there.
Unlike the 2019 Honda Civic, the 2019 Subaru Impreza is available with rear cross-traffic alert and blind spot detection. It even offers automatic braking in reverse! None of these features are available on the Honda Civic. When backing up out of a tight parking space or making a lane change, the 2019 Subaru Impreza can intervene to help you avoid traffic you can't see coming.
The clear winner here is the Subaru Impreza. For more information on how the Subaru Impreza beats the Honda Civic, visit us at Subaru of Bend.