The 2019 Subaru Outback from your local Subaru dealership in Bend, OR continues to dominate the compact crossover segment. With its latest edition, the Subaru Outback packed a bigger punch that is sure to impress drivers and passengers alike. We took it out for a spin, and it did not disappoint.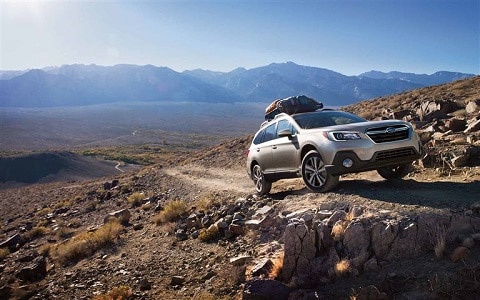 Impactful Exteriors
The 2019 Subaru Outback is a simple, but stylish vehicle. Outside, the Subaru Outback looks like a Legacy wagon, riding on stilts and wearing its lifted wagon duds well. Going for the simple but rugged look, this beast comes with unpainted lower bumpers and rocker panel trim.
In its latest edition, the LED headlights were updated with steering responsive headlights for sharper views at night. In addition, the cargo carrying capabilities of the standard roof railings are the best in its class, ready to handle your bikes and skis with ease. To top it off, the 17-inch wheels provide a nice finish to the whole package.
Astute Performance
Performance-wise, the 2019 Subaru Outback exceeds expectations, thanks to the symmetric all-wheel drive that provides stability and agility for safer and more fun driving experience. This road charmer also boasts of a four-cylinder engine, allowing drivers to get up to a combined 32 mpg!
In addition, the Subaru Outback's Boxer engine has a low and flat position in the hood. This means a low center of gravity for the machine, giving it better handling and balancing capabilities. With its continuously variable transmission (CVT) working together with the AWD and the available X-MODE function, you can expect maximum traction, wheelspin reduction, and stability on every journey.
Responsive Assistance
Perhaps the biggest improvement to the Subaru Outback is the standard EyeSight Driver Assist Technology. This is good news since Eyesight has reduced dangerous rear-end crashes by 85%, giving the Outback a 2019 IIHS Top Safety Pick+ distinction.
With EyeSight, it feels like there's an extra set of eyes always looking out for your safety. Through several sensors and cameras, EyeSight can maximize cruise control, monitor traffic movement, and apply braking to prevent collision. On higher trims, you can opt for better value with Blind Spot Detection and Rear Cross-Traffic Alert features as well. No other compact crossover on the market is this safe and secure!
Classy and Functional Interiors
Like always, the Subaru Outback's cabin is in a class of its own. With 108.1 cubic feet of space and premium, soft-touch materials all around, it feels like a home away from home. Adding to its comfort value is the noise-reducing laminated front side glass and enhanced fast-cooling air conditioning. The front panel remains astonishing, with the available heated steering wheel, well-placed buttons, and the intuitive STARLINK multimedia screen.
Thanks to the available Power Rear Gate, which allows hands-free access to the cargo area, loading up the Subaru Outback becomes a breeze. If you need to put in more of that outdoor gear, the 60/40 split-folding rear seatback gives you that coveted cargo space. With interiors and features like these, you'll never consider another compact SUV!
Outback Loving
Impressive new features, an enhanced performance, and stronger durability make the 2019 Subaru Outback from your local Subaru dealership in Bend, OR better than ever. Don't miss out on the next big adventure; get your Subaru Outback now! Click to visit us at Subaru of Bend.