The 2019 Subaru Ascent from your local Subaru dealership serving Eugene, OR finally fills one of the biggest gaps in an otherwise stellar and diverse line-up. Subaru has a devoted following thanks to its excellent safety, performance, and emotional appeal, but for many years Subaru didn't have a large, three-row SUV for growing families.
Subaru made an effort in the right direction with the Tribeca, but its undersized third row and cargo area held it back from being competitive. Subaru turns all of that around with the 2019 Ascent— all the room big families are looking for, the high level of safety and comfort they need, plus off-road capability and athleticism that keep car shoppers flocking to Subaru dealerships.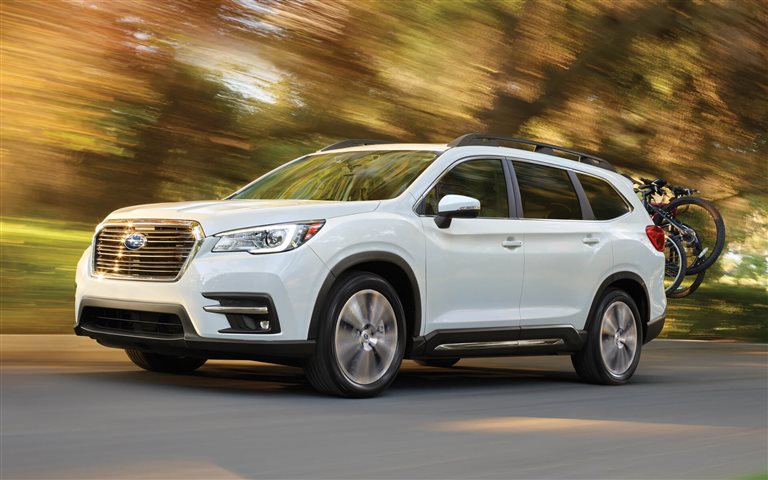 Family-Ready Interiors
The 2019 Subaru Ascent is the largest vehicle produced by Subaru, and there's a place for everyone in this SUV. Passenger volume stands at a staggering 153.5 cubic feet, with 17.8 cubic feet of cargo space. Fold down the third row, and you gain up to 47.5 cubic feet of storage. The Ascent is designed to move serious volumes of people and gear, and it does so while maintaining a soft and quiet ride. Adults will fit comfortably in any of the three rows, and the seats are supportive and cozy.
The 2019 Ascent is already a welcoming and comfortable space, but the Touring trim takes it into the level of luxury. The cabin is meticulously-finished to stand out above the rest. With its gorgeous Java Brown leather seats, Ivory leather accent pieces on the dash, and delicate wood accents on the door panels, the Subaru Ascent Touring is the most luxurious Subaru yet.
The same posh finishes will greet you in the back row with features like an HVAC control on the center console and two USB ports. With 19 cups scattered throughout the cabin, the versatile Ascent is definitely family-ready.
Bright Performance
The 2019 Subaru Ascent is large, but don't be fooled by its size – there's no lag in the Ascent; by Subaru estimates, it's capable of going from zero to 60mph in a mere 7.4 seconds.
The 2019 Ascent is powered by a 2.4L turbo-4 engine that can produce 260 horsepower and 277 lbs.-ft. of torque. It's mated to a continuously variable automatic transmission that works so smoothly, you won't believe it's there. Add the standard All-Wheel Drive to this mix, and you have an eager SUV with a beautiful ride and outstanding control.
Something for Everyone
Of course, a family-focused vehicle is expected to have enough amenities to keep all passengers occupied and comfortable whether it's a long trip or a quick run to the store. The 2019 Ascent starts strong with seating for up to eight people, separate climate controls for different passenger positions, several charging ports, and plenty of cup holders.
There's a lot of value in the base Ascent, with its cloth upholstery, power features, Bluetooth, active safety features, an infotainment system, three-zone climate control, Apple CarPlay and Android Auto compatibility, and much more. The Premium trim offers a great middle ground, with Subaru's telematics, an 8-inch touchscreen, keyless ignition, and second-row captain's chairs. The Touring trim treats you to a panoramic moonroof, a forward-facing camera, heated rear seats, heated and ventilated front seats, and leather interiors.
The arrival of the 2019 Subaru Ascent into the three-row SUV market is sure to thrill fans of the brand. Whether you're a Subaru enthusiast or not, it's not difficult to appreciate all features included in the 2019 Ascent. This vehicle gets it right.