The 2019 Subaru Impreza from your local Subaru dealership in Bend, OR is the compact family car that everyone is raving about. Already on its 5th generation, the Impreza has established itself as an iconic car in its class. Because of its durability and driving performance, Subaru's flagship compact car has remained a fan favorite all these years. The 2019 Impreza has high expectations to match and it does just that.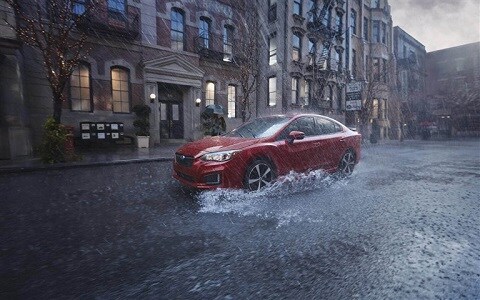 All-New Impreza
The 2019 Subaru Impreza is available in sedan and 5-door models just like its previous iterations. Not much has changed since the reboot of the Impreza's 2017 model, but this stunner leaves no one disappointed. Those looking for a highly durable car will find the 2019 Impreza the most durable in its class. Its neatly designed halogen headlights are crisp, giving additional beauty to this four-wheeled wonder. Furthermore, all Impreza models have roof racking capability, which comes handy for weekend warriors looking to stack their kayaks or snowboards.
Advanced Safety and Security
When it comes to road safety, few come close to Impreza's EyeSight Driver Assist Technology, which helps the driver with cruise control and keeping in the lane while driving, among others. This technology has helped the Impreza and other Subaru models attain the highest rating for crash prevention with the IIHS. While it is optional for most trims, Subaru EyeSight is highly recommended on any compatible model. The 2019 Impreza's other features such as Blind-Spot Detection, Rear Cross Traffic Alert, and reverse automatic braking, will have you loving driving a compact car more than ever.
Luxury and Premium Feel
The 2019 Subaru Impreza upholds the sleek, intricate interiors that members of its past generations have been acclaimed for. The chrome plated finish on its sides, as well as the lush cloth and leather seat coverings are a thing to behold. Adding to the cabin's magnificence is its passenger volume of 100.9 cubic feet, which is the biggest in its class. The trunk room is impressive for its class on both the 4-door and the hatchback models, with 12.3 cubic feet sedan and 20.8 cubic feet for the 5-door model. Should you need more room for cargo, the both models contain 60/40 split-fold seats that go down seamlessly for plenty of added space.
Packed with Technology
Equally capturing heads is the Impreza's tilting and telescoping steering wheel, and the fact that the buttons and knobs on the wheel are clearly marked makes for a trouble-free drive. As far as infotainment options go, the Subaru StarLink 6.5-inch multimedia screen is wonderfully accessible and provides enough space for the rear exterior parking camera when backing up. Plus, you'll always want to run your favorite Spotify playlist over and over via the interior Wi-Fi and Harmon Kardon premium auto system.
Efficiency and Performance
A great compact car deserves a great engine. Under the hood of the 2019 Subaru Impreza is a neat 2.0-liter direct injection four-cylinder boxer engine with 152 hp and 152 lb-ft of torque. This stunner can hit significant speeds at efficient outputs, up to 28 mpg city and 38 mpg highway driving. The 2019 Impreza also comes with standard all-wheel drive functionality — the best for its category. With the EyeSight Driver Assist Technology complementing the smooth driving capability of the 2019 Impreza, it's no wonder this car has amassed a loyal following over the years.
With its fuel economy, safety score, and excellent infotainment system, the 2019 Subaru Impreza from the best Subaru dealership in Bend, OR is the compact car to fit all your needs. It has all you need and more for your family to enjoy. Visit Subaru of Bend now and let our friendly staff assist you as you discover the ultimate compact car experience!