Few vehicles can evoke an aura of recreation and relaxation like the 2019 Subaru Crosstrek from your local Subaru dealership near Salem, OR. This subcompact SUV boasts of powerful features that make it the perfect companion whether in the concrete jungle or the vast wilderness. With key improvements from last year's edition, the 2019 Subaru Crosstrek promises to be worth the investment.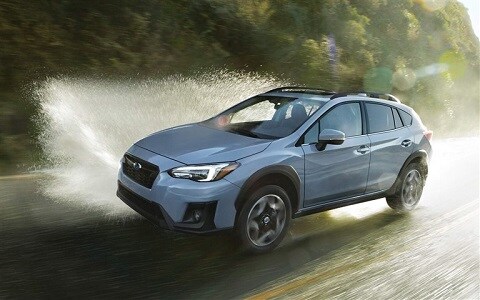 Great Mix of Comfort and Durability
The 2019 Subaru Crosstrek is a winner when it comes to safety. Its airbag and seatbelt systems are impeccable, and they carry on Subaru's proud tradition. The 2018 Model garnered Top Safety Pick+ IIHS, and since this year's model is almost identical to it, it can be held to the same standard.On the active safety front, the Crossover scores point with the addition of the Subaru Eyesight Driver Assist Technology as a standard offering.
Through dual color cameras located near the rearview mirror, EyeSight can monitor traffic and cruise control, assist in lane keeping, and reduce/prevent both rear-end and front-end crashes. The reliability of EyeSight has attracted the attention of buyers, especially as it helped the Crosstrek attain the Top Safety Pick+ rating. If this doesn't convince you, we don't know what will.
An Absolute Stunner
When it comes to interior design, the 2019 Subaru Crosstrek is an absolute stunner. Supporting up to 100.9 cubic feet of passenger space, it is conveniently sized for families and groups for long-haul travels. The seats are a delight, whether they come in the cloth or leather finish, as they exhibit the lushest pattern designs for its class. Add to this an acoustic windshield which helps reduce noise, plus a cargo area of 51.9 cubic feet, and you have one of the enviable interiors ever.
Another strong suit of the Crosstrek is its infotainment technology. Subaru's Starlink Multimedia feature allows you total connectivity in the vehicle, with a 6 1/2 inch infotainment screen as the control base. You can connect your smartphone to Starlink to make the Crosstrek a smart car. You can access your apps either through Apple Carplay and Android Auto, and you can attend to calls and text through voice-activated capability. Subaru makes it easier for you to do all of this while keeping your focus on the road.
Ride in Style
The 2019 Subaru Crosstrek has an exterior design which mixes the tough image of an SUV and the classy profile of a sedan into one seamless package. Its high strength steel body structure gives the Crosstrek durability for your many adventures ahead, whether it's in the national park or the concrete jungle. And with up to 8 colorways, you have a sizable number of options for riding in style.
Integrated roof rails are standard with every Crosstrek model, allowing weekend warriors to load up more of their outdoor gear. At the vehicle's bottom, the 18-inch alloy wheels and the 8.7-inch ground clearance allow for smooth and sensible rides to wherever life takes you.
One of the Year's Best Rides
Like most other Subaru SUVs, the 2019 Subaru Crosstrek is an impressive road performer, and this boils down to its engine. The Crosstrek comes with the standard Subaru Boxer engine — one of the most dependable and efficient vehicle engines. Coming in at 2.0 L with direct injection H4, the Crosstrek's engine produces 152 HP and 145 lb. ft. of torque.
The Boxer engine also supports a symmetrical all-wheel drive capability, which gives the Crosstrek uniform stability for efficient road handling. The speed capability is also on point, as it manages a maximum MPG of 33/27 for highway and city, respectively.
As a compact SUV that feels at home either in the city or the wilderness, the 2019 Subaru Crosstrek is definitely one of the year's best rides. Go get one if you're looking for a vehicle which tops performance, comfort, and safety. The 2019 Subaru Crosstrek is just one of the many offerings that Subaru of Bend has for this season. Click here to view our Crosstrek inventory and schedule your test drive today!