Whether as a hatchback or four-door, the 2019 Subaru Impreza from your local Subaru dealership near Eugene, OR remains a hit for a simple reason — it solves the major drawbacks that plague many compact sedans today. The back seat is big and there's plenty of cargo room. The standard AWD gives it all-weather capability. Consider the fact that 96% of all Imprezas sold are still on the road today, and it becomes clear just how impressive the 2019 Subaru Impreza is.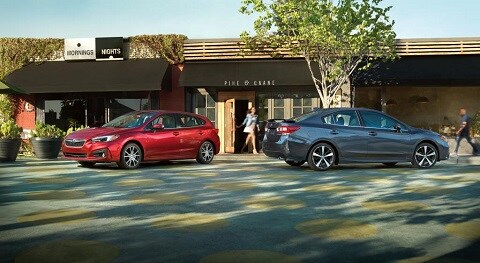 Class-Leading Performance
At 152 horsepower, the Subaru Impreza's engine provides loads of power for passing, merging, and dodging other cars during the morning rush. Expect the steering wheel to feel direct and lively in your hands. Even base models offer surprising grip through the suspension and extensive sound deadening maintains a quiet cabin at highway speeds.
The 2019 Subaru Impreza is already an accomplished compact car, but the standard All-Wheel Drive should seal the deal. Unlike other models in the market, you don't have to pay extra to gain maximum traction and control driving through snow, rain, ice, dry pavement, or any other tough driving conditions.
Distinguished Safety Record
The 2019 Subaru Impreza continues to beat the competition when it comes to safety. It received a perfect five-star from the NHTSA and aced crash tests from the IIHS. On top of this, Subaru is the only automaker to garner the coveted IIHS Top Safety Pick+ designation for five straight years.
Forefront on the Subaru Impreza's safeguards is the much-praised EyeSight Driver Assist Technology. It boasts of features such as Pre-Collision Braking that will bring the car to a total stop during emergencies. Lane Keep Assist can detect when you're straying out of the lane and steers the vehicle back into place. EyeSight also optimizes cruise control, monitors traffic movement, and warns drivers about hazards on the road.
Customize Your Experience
Those who prioritize value above all else will find the Subaru Impreza base model generous with impressive features. Some standard features include the 6.5-inch infotainment screen with Android Auto and Apple CarPlay compatibility, plus power features, air conditioning, and more.
If you prefer a more luxurious ride, higher trims offer additional comforts such as heated front seats, alloy wheels, acoustic windshield, and keyless ignition. Leather upholstery, automatic climate control, and a power driver's seat are also available. Value or luxury, the 2019 Subaru Impreza leaves the choice up to you.
Timeless Design
The 2019 Subaru Impreza favors elegance over flash. Its exterior is defined by simple, clean lines that will stay in style for many years to come. Large headlights and a wide grille are mounted confidently in front. For a dressier ride, the Subaru Impreza Sport upgrades to 18-inch alloy wheels and corresponding body kit.
Drive the 2019 Subaru Impreza Today!
The 2019 Subaru Impreza fulfills your daily driving needs and more with advanced technology, comfort features, and eager performance. Ready to meet the 2019 Subaru Impreza? Get behind the wheel when you schedule a test drive with us here at Subaru Of Bend. Click to learn more about the 2019 Subaru Impreza.