You're not the only one left in awe by the 2019 Subaru Ascent from your Subaru dealership near Salem, OR. The 2019 Subaru Ascent is the same Subaru you know and love, but now on a bigger scale as a midsize SUV. As expected, it does not disappoint. With its handsome mix of style and toughness, the Subaru Ascent is the total adventure package.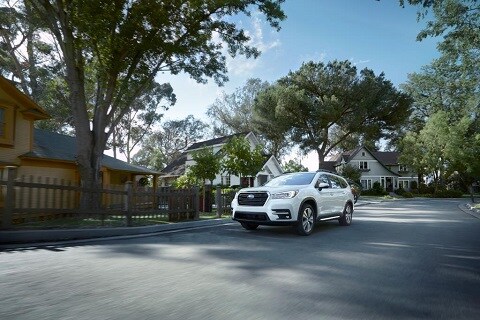 Style and Toughness on the Road
At first glance, the 2019 Subaru Ascent ¬screams boldness and strength. Its well-contoured design and agile detailing make for long road trips. The trademark Subaru grille itself is a work of art, and the elongated headlights help amplify the majesty of the Subaru Ascent's front end. With the 18 x 7.5-inch aluminum alloy wheels, you'll feel confident driving this extraordinary vehicle.
The raised roof rails, built mainly to hold cargo, blend in well with the exterior. The available Power Rear Gate moves faster than ever and can be opened simply with a button on your key fob.
Top Performer
The 2019 Subaru Ascent operates on a standard Symmetrical All-Wheel Drive platform, which ensures efficient driving and stable cruising on any road. Under the hood, the Direct-Injection Turbocharged (DIT) Subaru Boxer engine is a picture of efficient design. With the ability to generate 260 horsepower and 277 lb-ft of torque, the Boxer is capable of bringing you to new, exciting places. With a towing capacity of up to 5,000 lbs., you'd be hard pressed to name another SUV that can do the job.
Even with its powerful aura, fuel economy is not compromised by the Subaru Ascent. Destinations far and wide can be reached, with its mpg of up to 27/21 in the highway and city, respectively.
Powerful yet Calming
While akin to a tank on the outside, the Subaru Ascent has interiors that can recharge your weary soul. Roomy and pleasing, the cabin's soft touch details ensure maximum comfort for long rides. In the second row, you can choose between a bench seating setup or a captain's chair scheme. If you feel the need for more space, the available moonroof lets in plenty of natural light, making for a relaxing environment. With 19 cup holders spread throughout the cabin you can easily make that Starbucks run for your morning carpool.
The 2019 Subaru Ascent is also packed with amenities for the passengers. The built-in STARLINK Infotainment system can convert your phone into a WiFi hotspot, giving your passengers Internet connectivity. Passengers can also conveniently connect to any USB port in the vehicle with eight ports spread throughout the cabin. In addition, drivers can also choose to share their favorite Spotify playlist via Apple CarPlay or Android Auto, which is accessible via the vehicle's 8-inch touchscreen.
Worry-Free Cruising
Subaru's commitment to safety is shown in the 2019 Subaru Ascent. Its EyeSight Driver Assist Technology has been made a standard feature. This is good news, as you can now easily get the EyeSight suite which includes Adaptive Cruise Control, Lane Keep Assist, and Pre-collision Braking, among others.
An upgrade in trims allows access to more innovative features like Blind Spot Detection with Lane Change Assist and Reverse Automatic Braking. With many safety features, the Subaru Ascent delivers the pleasure back into SUV-driving.
Not only is the 2019 Subaru Ascent from your Subaru dealership near Salem, OR the largest Subaru yet; it is also its most complete vehicle. The Subaru Ascent is waiting for you and your adventures! Contact Subaru Of Bend to schedule a test drive right away! Click to visit us today.