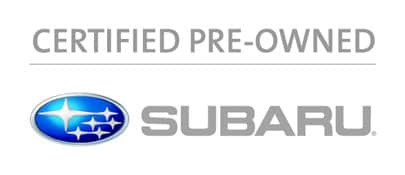 A
"Certified Pre-Owned"
Subaru carries a special designation, an umbrella of coverage and sense of security not available in any other pre-owned vehicle. Only Subaru Certified Pre-Owned checks your vehicle's past, present and protects your future. No secrets. No surprises. Just great value in a vehicle that has met our exacting standards, not once, but twice. It's special and it's available at Subaru of Bend.
View list of our current Certified Pre-Owned Inventory

All qualifying Certified Pre-Owned vehicles receive a standard 6 year or 100,000 mile Powertrain plan with Roadside Assistance, a $0 deductible, and CARFAX report at no additional cost. All Certified Pre-Owned vehicles are also eligible for a 6 year, 100,000 mile Gold Plus (bumper to bumper) plan at their choice of a $0, $50, or $100 deductible as an upgrade for a discounted additional cost.

What makes a Certified Pre-Owned Subaru?
- Current model year or preceding 5 years with under 80,000 miles.
- Must pass a rigorous 152-point inspection. (See list below)
- Must receive a clean CARFAX History Report, meaning it does not contain any DMV-reported incidents like salvage, fire damage or lemon history.
- Available lower interest financing for qualified buyers.

Subaru of Bend is proud to lead the industry by providing a broad selection of Certified Pre-Owned Subarus. Expect and get the best. ASK about our Certified Pre-Owned Subarus . They're better than new!
THINK
Peace of Mind.

FEEL
Secure.

DRIVE
With Confidence.
CHECKED UNDER THE HOOD:

1. Before Road test/hood open/trunk open
2. Primary and secondary hood latch operation
3. Radiator and cap
4. Hoses and clamps
5. Air filter
6. Change Oil filter
7. Drive belt tension and condition
8. Change Engine oil
9. Coolant
10. Power steering fluid
11. Brake fluid
12. Clutch fluid*
13. Fill windshield washer fluid
14. I/C water bottle (filled less than ½ full during cold weather)*
15. Clean battery (mounting, cables, and ground straps)
16. Specific gravity
17. Electrolyte level
18. Load test
19. Spare tire pressure/ tool kit/ jack and handle
20. Replace front & rear wiper blades

CHECKED IN INTERIOR OF VEHICLE:

21. Insert key in ignition/chime
22. Key "ON"/ check dash warning lights
23. Turn "ON" rear defogger/ check indicator
24. Windshield wipers and washer front/ rear check*
25. Headlights high/low alignment
26. Dash illumination control and display
27. Head light leveler operation*
28. I/C water spray operation*
29. Turn headlights to park position
30. Hazard flashers
31. Reverse lock out check*
32. Shift Transmission to reverse/ set parking brakecheck adjustment if necessary
33. Clutch/brake pedal freeplay*
34. Seat belts/warning lights
35. Check for proper movement and operation of both front seats
36. Cold weather package operation (heated seats,mirrors, and windshield)
37. Fuel filler release
38. Lighter and ashtray*
39. Power outlet*
40. Trunk release*
41. DTC check using Select Monitor
42. Steering column parking lamp switch operation
43. Sound horn
44. DCCD display and manual mode operation (reset to automatic mode)*


CHECKED OUTSIDE OF VEHICLE:

45. Fog lamps/aim*
46. Turn signals (front & rear)
47. Parking lamps
48. License plate lamps
49. Brake and high mount stop lamps
50. Tail lamps
51. Reverse lamps
52. All front lamps
53. Fuel filler cap operation


CHECKED WITH DOOR OPEN / IGNITION OFF:

54. Hazard flashers/parking lamps (door open/ignition "off")


CHECKED IN VEHICLE / IGNITION ON:

55. Turn signals/indicator lamps
56. Brake lamps
57. Remote mirror operation L/R
58. Passenger airbag on/off and seatbelt warning light*
59. Set clock
60. Steering lock/tilt
61. All seat adjustments
62. Power window operation
63. Sunroof operation
64. Door locks
65. Map/dome lights
66. Radio/CD - set stations


CHECKED OUTSIDE VEHICLE WITH KEY:

67. Rear defogger
68. Door locks & door closing operation (keynumber/security code recorded)*
69. Rear seat belts
70. Security system*
71. Child safety door locks (left unlocked)
72. Door entry lights*



CHECKED WITH VEHICLE RAISED / ON LIFT:

73. Tire pressure, tread depth, orientation and condition
74. Tire set match documented
75. Wheel, wheel cover, and trim check
76. Check brakes, rotors, and calipers for specified parameters
77. Wheel cylinders*
78. Axle seals
79. Lug nut torque
80. Fluid leak check
81. Complete exhaust system
82. Steering linkage
83. Struts
84. Axles
85. Bolts/bushings/fasteners
86. Rear differential fluid level check and top off
87. Other fluid leaks/damage


CHECKED WITH VEHICLE LOWERED:

88. TPMS warning light check (should be off)*
89. Engine performance (cranking, idle, accel., etc.)
90. Transmission performance and warning lights
91. Clutch operation*
92. Clutch safety switch operation*
93. Steering wheel alignment
94. Steering performance (return, free-play, tracking)
95. Wheel balance (absence of vibration)
96. Brake operation
97. Gauges/speedometer/ odometer operation and readings
98. Turn signal operation and cancellation
99. Cruise control operation
100. Vent/heater/A/C operation
101. Check for squeaks, rattles, vibrations, and wind noises
102. Tachometer alarm operation and reset*
103. Hill Holder operation*
104. VDC off switch*
105. Check that all keys start the engine
106. Check for unusual noises
107. Parking brake operation
108. Emissions check as required by state or local laws
109. Re-check coolant, power steering and ATF levels
110. Re-check DTC
111. Check leaks under vehicle
112. Electric cooling fans check
113. Steering wheel
114. Dash pad/instrument panel
115. Headliner
116. Passenger's sunvisor
117. Passenger's side door trim panel
118. Passenger's seat upholstery and trim
119. Glove box
120. Carpet
121. Floor mats
122. Center console, cup holder and arm rest
123. Driver's sunvisor
124. Driver's side door trim panel
125. Driver's seat upholstery and trim
126. Back of front seats
127. Package shelf*
128. Rear carpet
129. Rear cup holder
130. Floor mats
131. Side door trim panels
132. Rear seat upholstery and trim
133. Trunk/cargo area trim
134. Front bumper
135. Hood
136. Driver's side body panels
137. Passenger's side body panels
138. Door sills and jambs
139. Roof
140. Trunk/tailgate
141. Rear bumper
142. Glass
143. Other plated or painted parts
144. Overall paint condition
145. Engine compartment
146. Trunk/cargo area
147. Interior
148. Exterior
149. Glass
150. Door sills and jambs
151. Decal removal
152. License plates and frames
Your Standard and Optional Subaru Certified Pre-Owned Coverage


All Subaru Certified Pre-Owned Vehicles receive:


CARFAX vehicle history report
Roadside Assistance
Rigorous 152-point safety inspection
Rental and towing benefits on all plans
Mechanical breakdown coverage on all plans

mc

Subaru Certified Pre-Owned Coverage


6 year/100,000 Miles - Powertrain Added Security with Roadside Assistance

NO ADDITIONAL CHARGE

Deductible amount is $0

p

Optional Upgrade Plans

6 year/100,000 Miles - Classic Added Security with Roadside Assistance

6 year/100,000 Miles - Gold Plus Added Security with Roadside Assistance

Deductible options: $0, $50, $100

All vehicles must be 5 years old or newer and have less than 80,000 miles registered on the odometer to qualify as a Subaru Certified Pre-Owned vehicle.



SUBARU POWERTRAIN PLAN COVERS


ENGINE:
Engine block, cylinder heads, all internal lubricated parts, camshaft, drive belts, intake manifold, flywheel, valve covers, oil sending unit, oil pan, oil pump, motor mounts, seals and gaskets, turbocharger assembly and fuel injection system.

ALL WHEEL DRIVE:
Final drive housing/rear differential assembly, all internal parts, axle shafts, constant velocity joints and boots, double offset joints, propeller shaft, center support bearings, universal joints, wheel bearings and spindle, rear torsion bars and control arms, hub hearings, seals and gaskets.




TRANSMISSION:
Transaxle case, all internal parts, torque converter, transmission mounts, seals and gaskets.


TOWING AND RENTAL CAR:
For a covered failure, Subaru will pay you up to $100 per occurrence.


Rental Car: If you car is kept in the shop overnight for a covered failure, Subaru will pay you up to $30 a day toward the rental, to a maximum of $150 for each disablement.




24-HOUR ROADSIDE ASSISTANCE
Sign and Drive service up to $100 per disablement to get you back on the road as quickly as possible with no out-of-pocket expense.

Emergency dispatch towing for covered warranty or Added Security breakdowns.

Emergency on-site road service for jump start, gasoline delivery, tire change (with your good spare) and other minor repairs.

Emergency lockout or locksmith service.

Computerized trip routing and much more!
OPTIONAL

SUBARU CLASSIC AND SUBARU GOLD PLUS

UPGRADE PLANS

:


Classic includes everything listed under Powertrain

PLUS

:

COOLING AND FUEL:
Radiator, water pump, fuel lines, fuel tank, engine fans, fan motors, heater core, fuel sending unit.

STEERING:
Steering rack assembly and all internal parts, steering column shaft and assembly, universal joints, power steering pump, seals and gaskets.

FRONT SUSPENSION:
McPherson struts, transverse link control arms, shafts and bushings, ball joints, steering knuckles, wheel bearings, stabilizer bar and bushings, seals and gaskets.


mc

AIR CONDITIONING
Compressor, condenser, evaporator, expansion valve, blower motor, clutch and pulley, compressor seal, receiver/dryer.


ELECTRICAL:
Alternator, voltage regulator, starter motor and solenoid, wiring harnesses, engine management control unit, power window motors, windshield wiper motors, ignition coil, power door locks, power mirror motors, analog dash gauges, trip computer, clock, heater blower motor and switch, manually operated switches, digital instrumentation cluster, horns, window regulators, speedometer head, electrical relays, sunroof motor.

BRAKES:
Master cylinder, wheel cylinder, pressure holding valve (hill holder), hydraulic lines and fittings, disc brake calipers, power brake assist unit, Antilock Brake System (ABS), Traction Control System (TCS), seals and gaskets.


mc

Gold Plus includes

EVERYTHING

on your Subaru with the following exceptions:


Scheduled maintenance services and parts described in the Subaru Warranty and Service booklet for your vehicle and other normal maintenance services and parts including engine tune-up, suspension alignment, wheel balancing, filters, lubricants, engine coolant, fluids, wiper blades, belts, hoses, spark plugs, brake pads, linings and shoes, clutch disc and recharging of the air conditioning system, unless in conjunction with the replacement of a covered air conditioning part.

Other parts not covered are glass, weatherstrips, lenses, sealed beams, light bulbs, tires, hard and soft trim, moldings, bright metal, upholstery, paint, exhaust system, catalytic converter, brake rotors and drums, shock absorbers, battery, rust damage, wind noise, squeaks, rattles and cable or linkage adjustments. Accessories are only covered if factory installed or approved.